Matt & Janet Young Family
Family History
Click here for family stories and photos.
Boy Scout Resources
Scouting games and activities and Cub Scout pack meeting ideas.
Our Family
This our family in 2009 in front of the Newell K. Whitney store in Kirtland, Ohio. Our 4th great-grandfather Andrew L. Allen lived here and shopped in this store. His name is on the first page of the store ledger in the room behind us.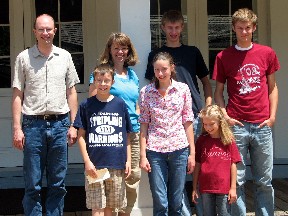 Mars Rover
Photographs, design ideas, and tips for the Idaho TECH Mars Rover challenge.
Gallery


Visitors: 124908